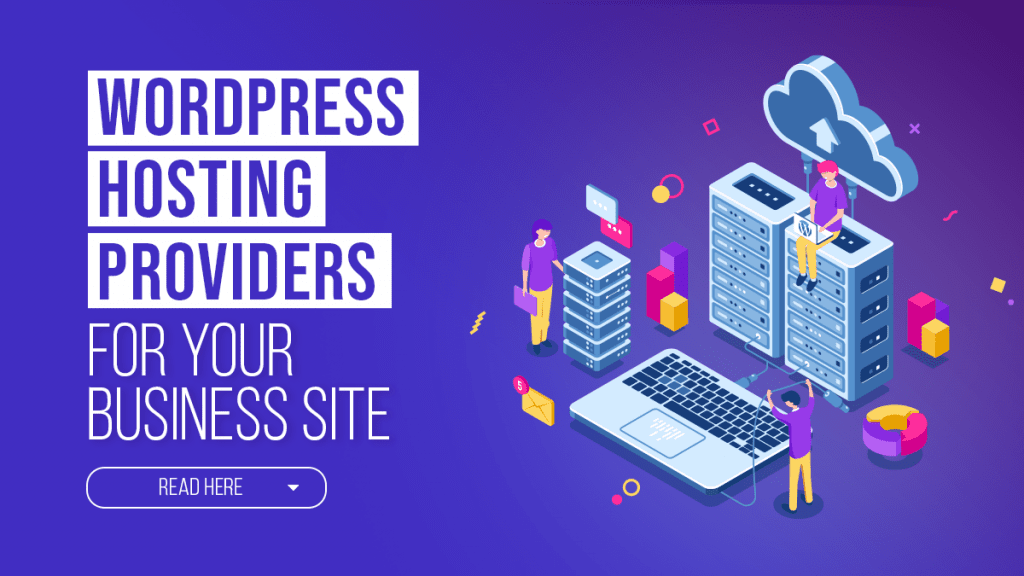 WordPress is a leading platform for blogging. Regardless of size, a business reaps many advantages when they build a website using WordPress. Thus, hosting is necessary for ensuring your company has a significant online presence. Businesses can select the right service from a variety of available WordPress Hosting Providers.
Of course, when creating a business site, it's vital to have a Hosting Provider that fits your needs perfectly. The ideal WordPress Hosting Service can improve your loading time, thus increasing your Website Conversions. In addition, they must also provide security by way of SSL Certificates and other measures to protect your site. 
Hosting Services are scalable and come with several hosting packages with appropriate pricing. Support is also part of the service as it ensures a smoother hosting process. 
There are plenty of services available that check all these boxes. Some even do it better than others. So here are the best Hosting Providers that can help you maintain your site:
The Top 5 WordPress Hosting Providers Available Today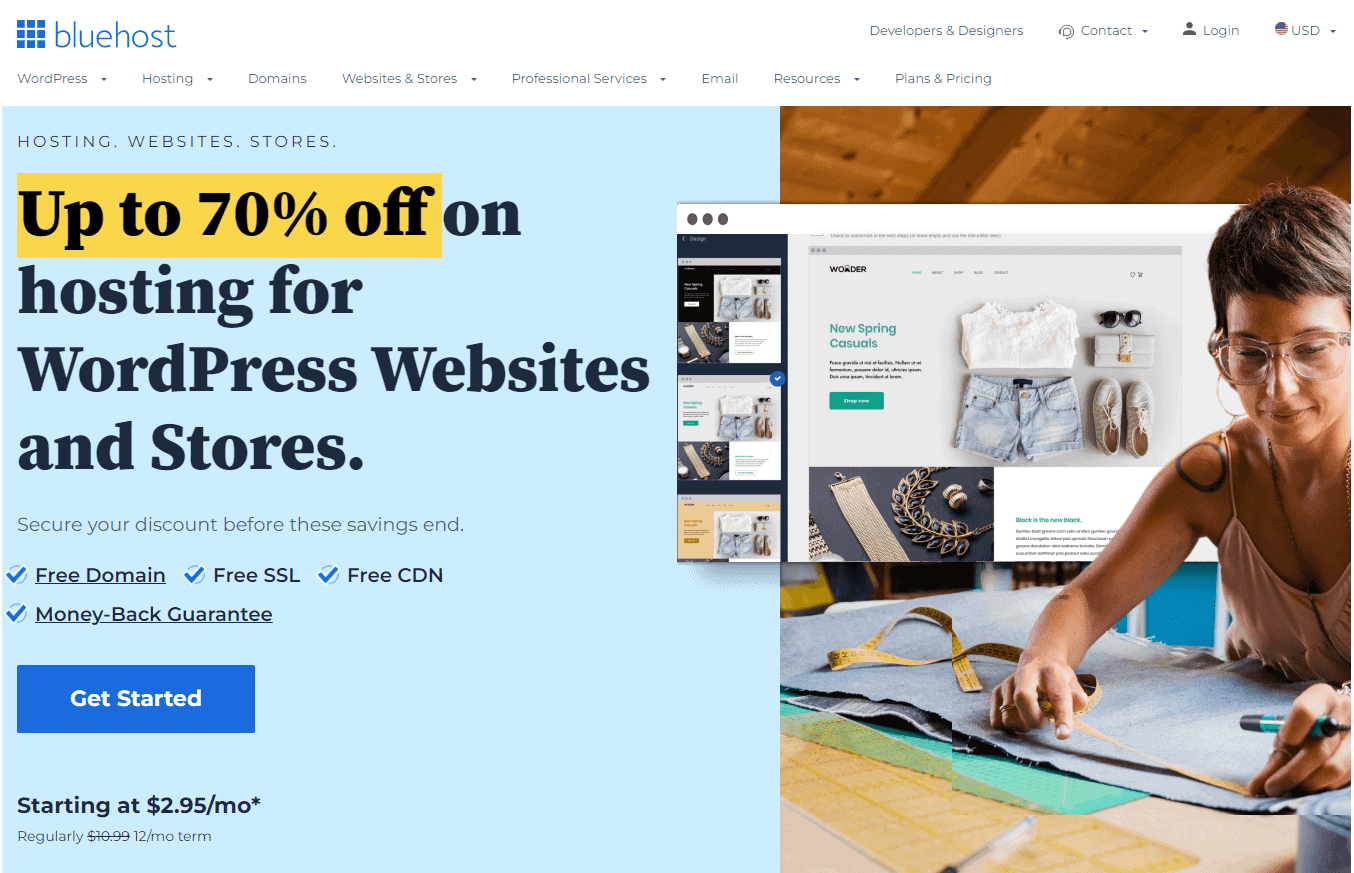 Source: Bluehost.
Not only does Bluehost offer cheap plans, but it even throws in a free domain name in your first year. Usually, a domain name costs between $10-20 yearly. Thus, Bluehost is best suited to new websites. 
Additionally, Bluehost is capable of installing WordPress with one click. Also, because it makes website setup so easy, you can have your business site running within an hour. Additionally, Bluehost has an excellent collection of informative guides, including video tutorials.
However, it's essential to note that it's on a Shared Hosting Plan. If a site sharing your provider experiences a substantial traffic spike, there's a chance that your site will go down. Fortunately, if your website needs more resources and you have the budget, you can purchase an upgraded package. 
This Hosting Provider offers round-the-clock support via live chat, phone, and email. It has four hosting plan tiers, free SSL Certificates, and Two-Factor Authentication.
It's so advantageous, no wonder WordPress itself recommends this Hosting Provider!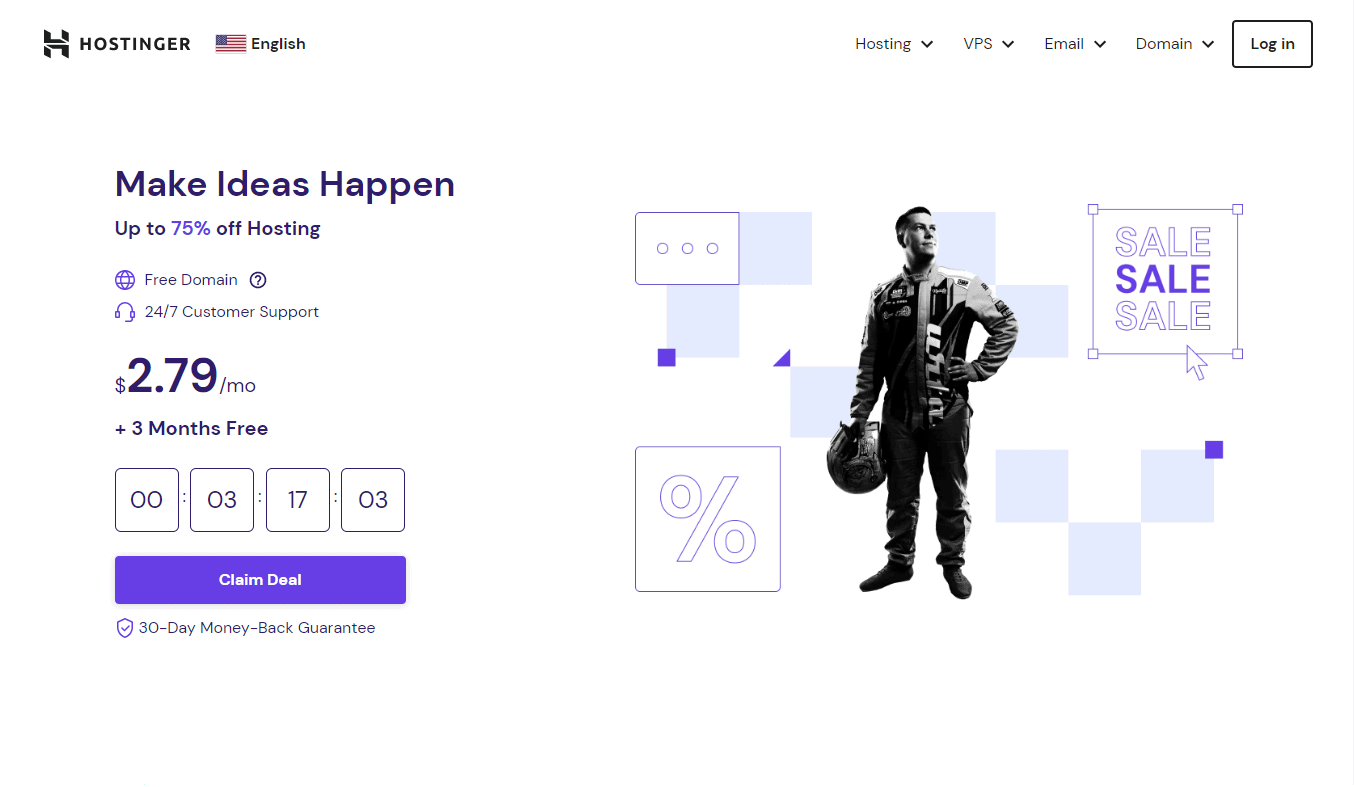 Source: Hostinger.
Though a more recent addition to the current number of available Hosting Providers, Hostinger is known for its reliability. In addition, its prices are affordable, and they offer Shared, Cloud, VPS, and Dedicated Hosting plans. By signing up for its hosting plan, you can create one website and have an email account and a free SSL certificate.
Like Bluehost, this Hosting Provider offers a free domain name and quick WordPress installation. In addition to helping businesses set up a website fast, your loading times are short. Excellent website uptime is also guaranteed.
Hostinger also has a feature that lets website owners get insights on page speed performance. In addition, top-notch WordPress Hosting Providers will provide staging environments that help you safely maintain your Website Database. Fortunately, Hostinger has a staging tool that lets you examine website changes without disrupting the live site layout. 
Also, this provider will automatically take care of WordPress core and plugin updates. When it comes to support, users can enjoy 24/7 customer support — in over 20 languages. You can reach the Hostinger support team via chat or email, but not by phone.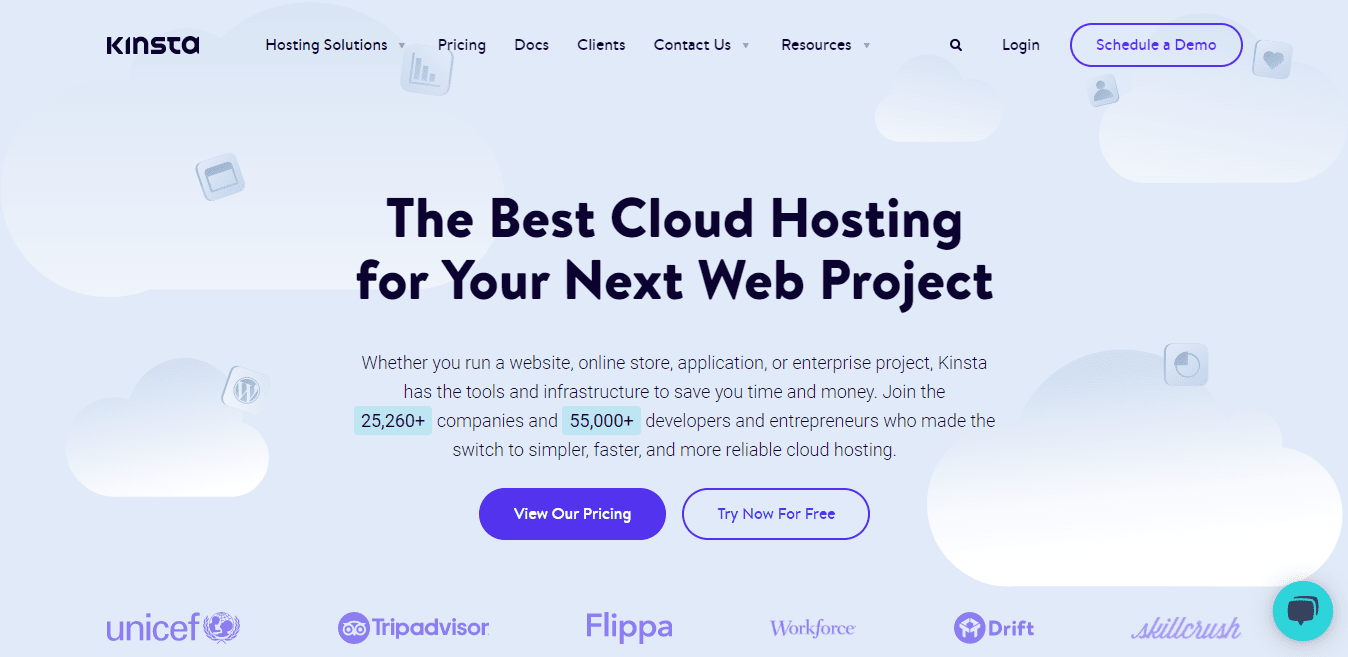 Source: Kinsta.
If your website has infrequent or inconsistent traffic volumes, Kinsta is the ideal hosting solution.
Kinsta is a bit more expensive than the first two providers on this list, but you can be sure of a fantastic performance.
Kinsta features a user-friendly Control Panel, which makes website management even more accessible. This provider is best for website owners that want managed hosting. As a result, Kinsta handles all the server management for your site.
Kinsta also offers auto-scaling functionality. For example, if your WordPress Website is experiencing a traffic surge, Kinsta will handle resource allocation to make up for it. Thus, it lessens the chances of slower loading times or crashing.
With Kinsta, you get the same features regardless of your chosen plan, rather than providing added or advanced features as you upgrade it. Still, it's vital to select a Kinsta plan that best fits your traffic.
Customer support for this WordPress Hosting Service is also available round-the-clock. Plus, you can use support tickets for your concerns. This provider is best for sites with a growing audience. Also, it's an excellent alternative to WP Engine.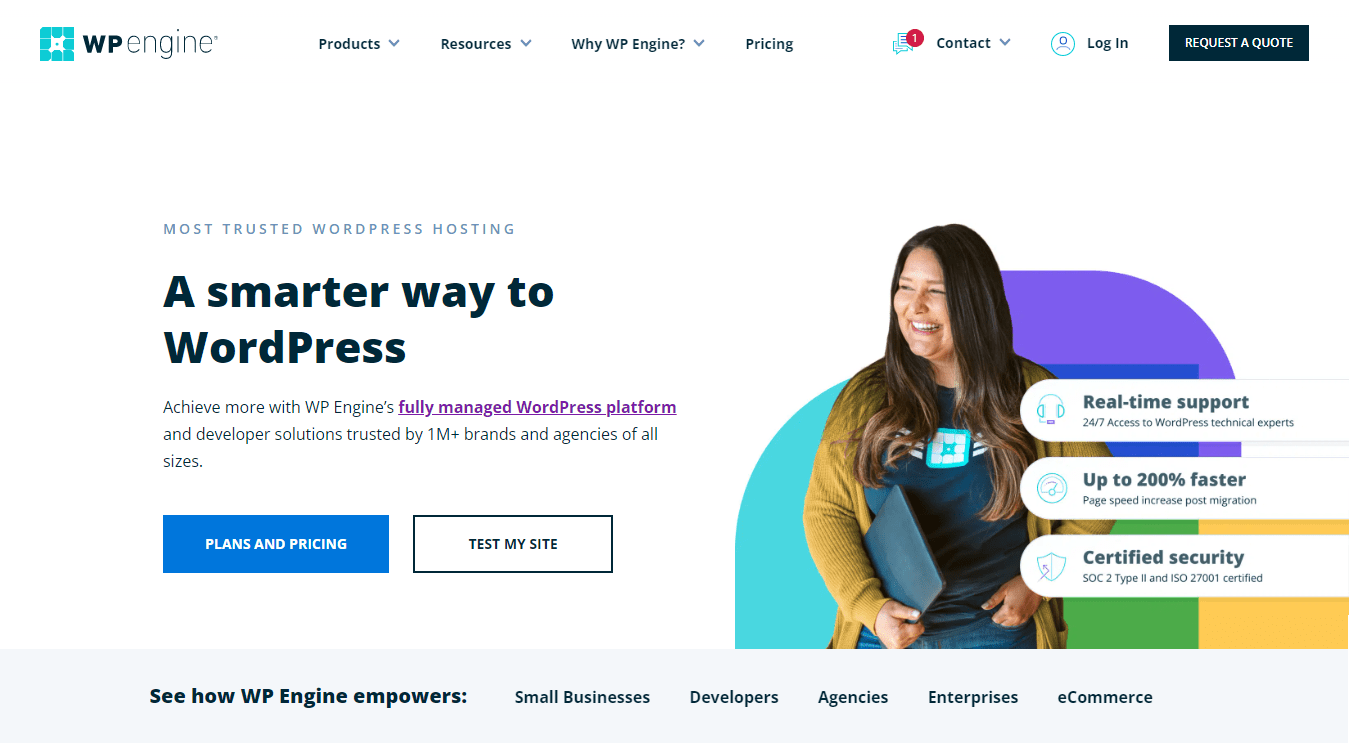 Source: WP Engine.
WP Engine can be a bit expensive, but it's a popular hosting option. The main reason is that it's done a lot to refine its performance to offer the best possible WordPress experience for s website owners. It's best for people who want to build a website with high traffic volumes, but not for newer sites.
Like Kinsta, this Hosting Provider offers managed hosting services. So, it maintains website speed and security from your servers. Not only that, but WP Engine also handles the following:
plugin installation;

plugin updates;

website backups;

implementing security features for website protection.
Like the other providers on this list, WP Engine can install WordPress upon signup. This installation is available on its entry-level plan, which allows up to 25,000 monthly website visits. You also gain data about your new website, plus a business site email and credentials.
This service offers three tiers of hosting options, an SSL Certificate, and customer support. Additionally, WP Engine provides top-quality 24/7 support via helpdesk, chat, and phone calls. It also offers trackable customer support tickets.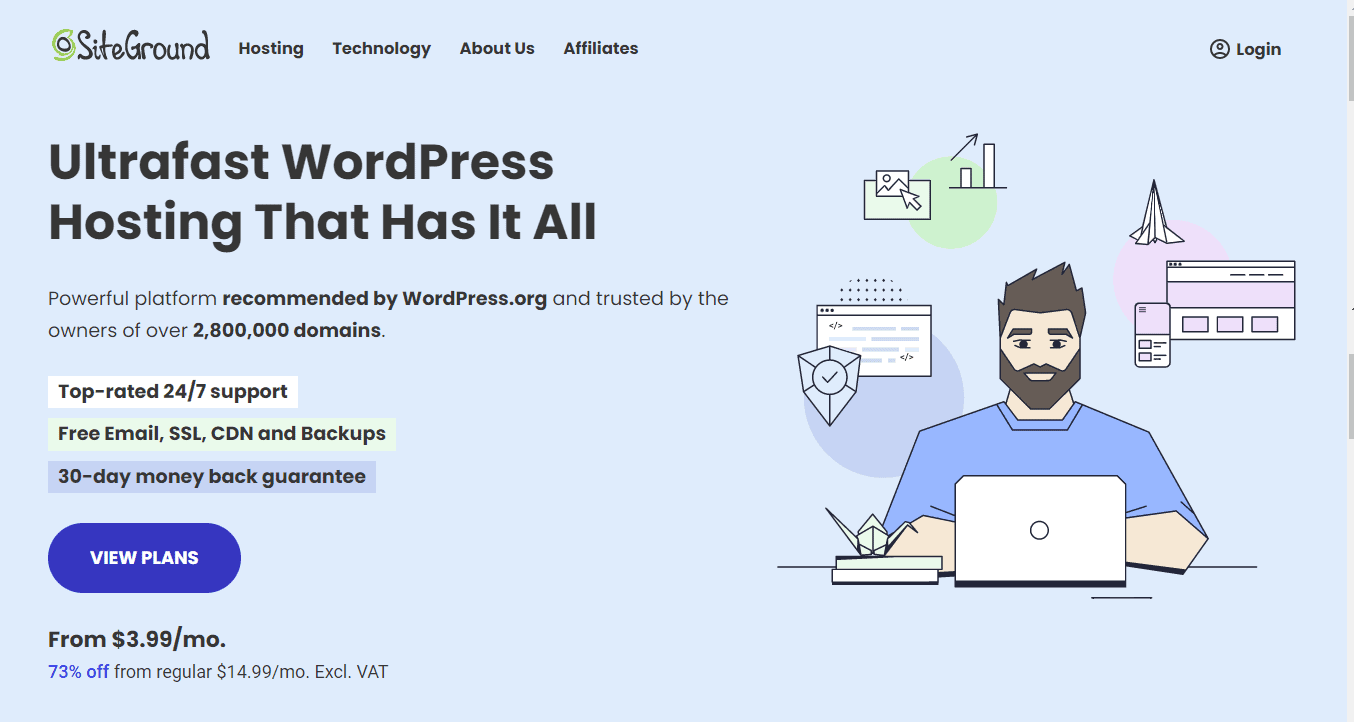 Source: SiteGround.
SiteGround is yet another managed hosting service provider that WordPress officially supports. It's perfect for WordPress websites of all sizes and traffic volumes. Not only that, but this WordPress Hosting Provider ensures that you have an easy and seamless experience.
SiteGround is an affordable Hosting Service Provider. In addition to offering a free WordPress installation, it comes with tools that make website setup easier for its users. 
For instance, it's got a free tool that allows you to migrate your existing website. This migrator tool can handle the whole site migration process. Also, this hosting service will enable businesses to quickly set up an eCommerce website.
SiteGround has other advanced features, including daily website backups. Additionally, business site owners can get automatic WordPress updates. 
On top of excellent website speed, this provider offers fantastic security for your WordPress sites. SiteGround has you covered with top-notch support by chat, phone calls, support tickets, and even Social Media! Additionally, if you want to take care of issues on your own, it has tutorials for troubleshooting.
Bonus: Other Hosting Providers
Though there are plenty of top picks for hosting, you need to carefully consider the provider that matches your business site's needs. Here are several other Hosting Service Providers that might be right for your website:
A2 Hosting

DreamHost

Flywheel

GreenGeeks

HostGator

IONOS 

Nexcess
Final Thoughts
Your business' online presence is reliant on hosting. Because WordPress is so popular, there are several Hosting Providers to choose from. Of course, Website Hosting Services will ensure your site stays up. 
There are plenty of Website Hosts that can improve your hosting experience by offering added functionality and perks! However, you must prioritize finding a WordPress Hosting Provider that can:
Handle your website traffic;

Fit your storage and memory requirements; and 

Provide ample site security. 
A WordPress Development Company in the Philippines can give you plenty of insights on what's best for your site.