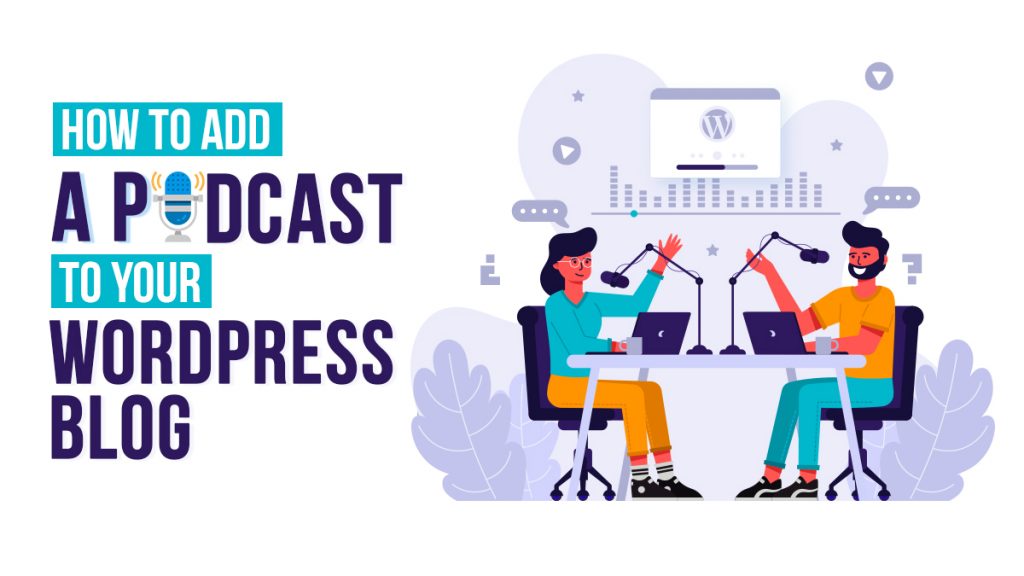 Podcasts are episodic audio-based media that people can stream via different applications. Some platforms even allow you to download podcast episodes to listen to later! So, website owners should know how to add a Podcast to their WordPress Blog. 
You'll need a few things to ensure your listeners have a seamless experience. Firstly, you'll need a dedicated website — your WordPress Blog has it covered. Fortunately, WordPress Sites have plenty of functionality to help you tailor your website to your brand.
Then, to create your podcast, you'll need recording and editing hardware to craft your audio files. Additionally, due to WordPress' integration with the Anchor podcasting platform, your audio episodes can work perfectly with its websites! For example, you can create a podcast from published blog posts. Anchor even lets you create a site from an existing episode. 
But regardless of your methods, you need to publish your episodes on desirable platforms such as Spotify, iTunes, etc. Also, you can add your podcasts to your website by hosting a prepared episode.
Why You Need to Add a Podcast to Your WordPress Blog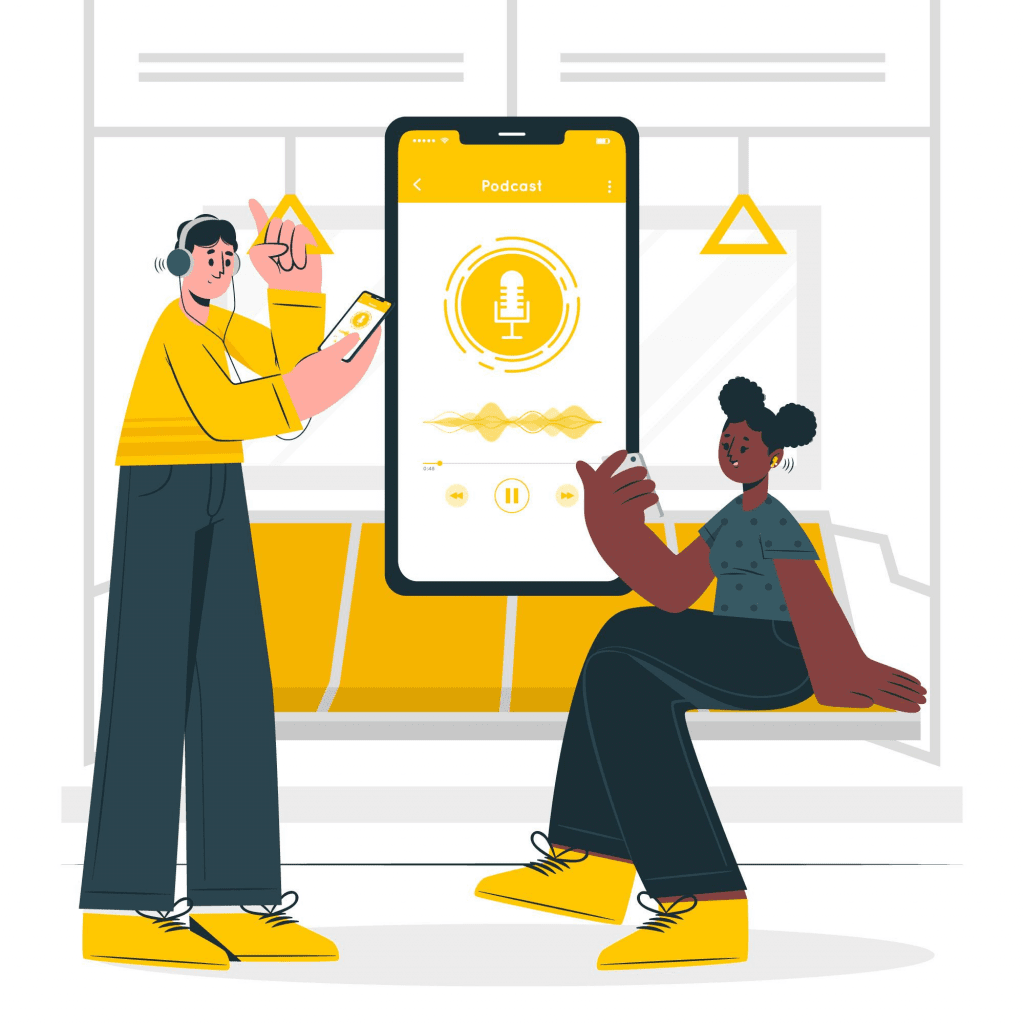 Podcasts are another method of getting people interested in your website content. Of course, some people are more interested in visual media, and others are more interested in text. But what about website visitors who are interested in audio? 
Podcasts are beneficial for gaining the attention of potential customers. 71% of listeners are Millennials or Gen Z, so that you can attract a sizable audience to your website. Podcasts are one way to grow an audience that's interested in the knowledge your brand has to offer. You can even influence them to visit your website or Social Media channels.
In addition, they can help you build and solidify your business' brand. For companies, podcasts can communicate your brand personality and values while you give people information about your industry. In addition, 54% of podcast listeners are more likely to consider brands advertised on podcasts. So, you can promote your business' products or services with them! 
So, here's how to add podcasts to your blogs:
Hosting Your Podcast Episode on WordPress
Step 1: Configure Your WordPress Website

Source: WordPress.
From the Settings option, go to Writing. There's a section titled Podcasting, and you need to click Set Up to access its settings page. Then, you should select a category.

Source: WordPress.
So, you can choose an existing category or add a new one.

Source: WordPress.
Next, you'll see a link to your podcast's channel feed in the RSS Feed field. Save this URL by clicking the Copy button. This link is crucial for submission to particular hosting platforms such as Apple Podcasts and Pocket Casts.
Step 2: Access and Modify Podcast Settings

Source: WordPress.
There will be a Manage Details button so you can tweak your Podcast Settings and specify the information listeners will see. For instance, some of the essential elements of your podcast include a cover image, title, and subtitle. However, your modifications don't end here, and you need to add the following information:
People will appreciate having an episode summary — a sneak peek at the podcast's content.

In addition, you must indicate the host or producer of the episode.

You should specify the topics your podcast covers, so it appears in the proper categories. 

But, it's important to note that some podcast hosting platforms will display your email address in the feed.

You must also mark the podcast as explicit if it uses such language or themes.

Adding copyright information is critical for some platforms.

Keywords are necessary as a reference, even if podcast directories don't use this information. Still, 

40% of podcast consumers

 get recommendations from directories, so they might still be helpful.

Lastly, ensure that your website's language settings match your podcast's language.

Source: WordPress.
Website owners should be sure to save the configurations once they're satisfactory!
Step 3: Adding Your Audio Episode to a Blog Post
Before adding the episode to your posts, you must remember to upload your podcast in appropriate formats (.mp3, m4a, etc.) These can differ across platforms, so ensure you get acquainted with your chosen platforms' uploading requirements.
The WordPress Block Editor can help shape your site to your specifications. Thus, you can use it to add a Podcast to your WordPress Blog. 
Firstly, you must add a New Post to your WordPress Website. When deciding on the blog title, remember that it should reflect the episode's title on your podcast platforms.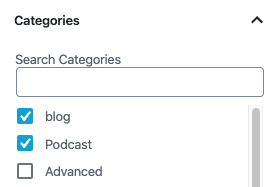 Source: WordPress.
Also, you should assign the post to the proper Podcast Category. You may even add an Excerpt as part of the episode's description!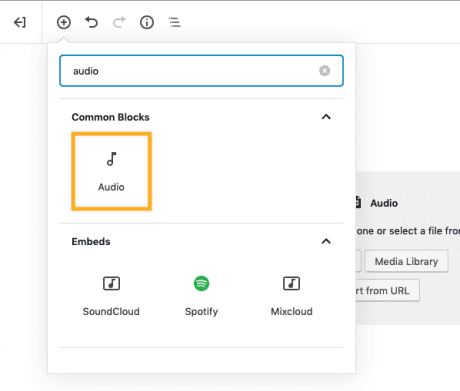 Source: WordPress.
Afterward, you can add an Audio Block, where you can link your audio or upload the file directly. Finally, you're free to publish your post, so your podcast goes live. 
If you want to list recent episodes and play them on the blog, consider using the Podcast Player Block. Also, you can post the audio episode on other platforms or channels besides your WordPress Site.
Alternatively: Using PodBean to Add A Podcast to Your WordPress Blog
PodBean is a platform for creating, publishing, and promoting your podcast. Though you must pay for more advanced functionality, you can use it for free. It even comes with a responsive website! But, you can add audio episodes from this platform to your WordPress Site.
Embedding a PodBean Podcast File on Your WordPress Blog
If you've built your site on WordPress.com, it won't support PodBean's embedded Podcast players.

Source: PodBean.
Instead, you'll have to copy the podcast's file URL and paste it into the post. Afterward, you'll see the podcast is embedded on the blog page. Thus, you're free to publish it.
Embedding the Episode File on Your Self-Hosted Website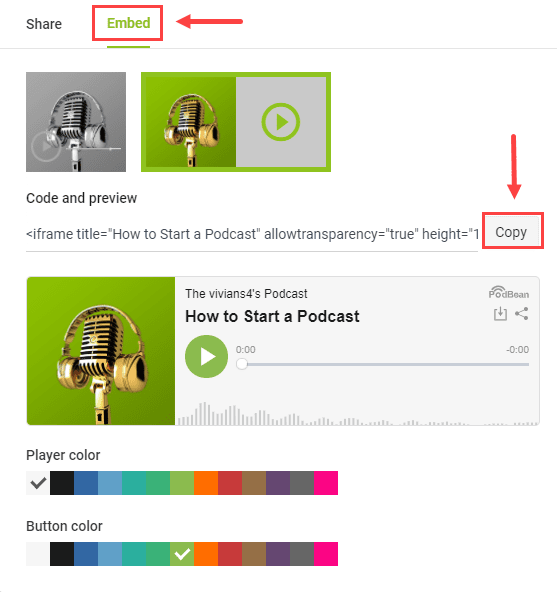 Source: PodBean.
You can use PodBean's supported embeddable player if your site is self-hosted. But, first, you'll need the embed code, which you can find via the Share button on any Podcast episode.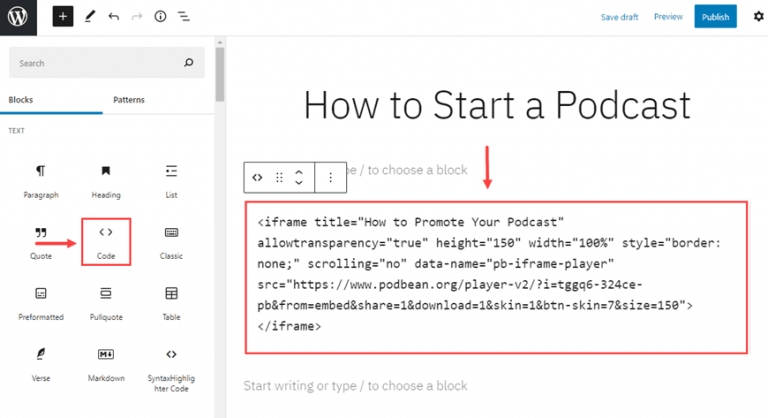 Source: PodBean.
After clicking the button, select the option to embed it and copy the provided code. Next, you should transform the code to "preformatted" before pasting it on the WordPress post. Lastly, publish your WordPress Blog.
Embedding One Episode to a WordPress Blog:

Source: PodBean.
To add a single Podcast episode via an embeddable player, start by clicking on the desired Podcast episode's Share button.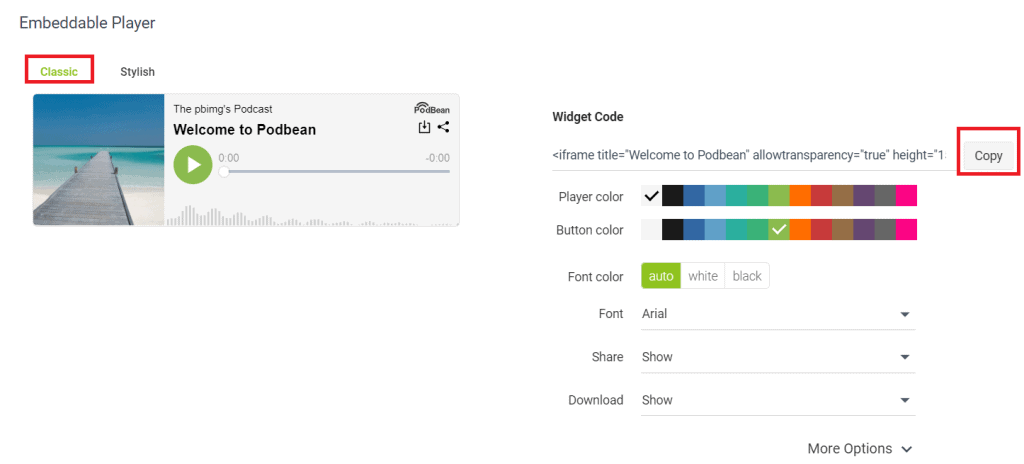 Source: PodBean.
Then from the provided options, click Embed to get a code you can copy and paste to the blog. Additionally, you can customize your download, font, and more. Once done, copy the code and paste it onto your blog's HTML.
Final Thoughts
Podcasts can provide another mode of content to your audience. Adding Podcasts to your website has various benefits, such as gaining an audience, building your brand, and advertising what your business has to offer. The best part of providing podcasts is that you can easily add an episode or two to your WordPress Website.
You can host your podcast on your WordPress Site, but you can also use other tools to add the files to your blog. Of course, website owners can always set up the podcast, but you can contact a WordPress Developer from the Philippines to help.